Welcome to Government Printing Press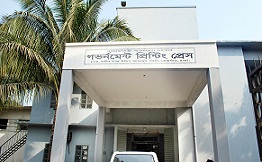 The Then East Pakistan Central Government established today`s Government printing Press "Central Press" by the year 1953 to have all urgent printing works of the state done. It was then as an attached Department under the Ministry of Industries of the than Government of Pakistan. Its Headquarter was located Karachi with Unit Office/Press in Karachi, Lahore, Islamabad & Dhaka. Later on from 1968 to 1971 it was run in the name " Printing Corporation of Pakistan Press" Dhaka Branch. After the Independence of Bangladesh in 1971, the new Government again took over the responsibilities of the press with its set men power # 602. The Press initially started functioning as a hot-metal raised printer. It is continuously traying to update its production technology to meet the qualitative & qualitative demand to various clientel offices. With the passage of time meanwhile by the adoption of Balancing, Modernization, Reforms & Expansion program the press has become equipped with computer based sophisticated technology. As regards procurement of technology of this time much the press has achieved but much more it needs to achieve.
Copyright © 2018 Bangladesh Government Press. Developed & Maintained by Business Automation Ltd.
Updated by Global Technolgoy Advancement