Welcome to Bangladesh Security Printing Press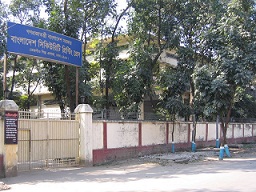 Since the inception of Bangladesh all cheque Formets of CGA and CGDF were being printed at the confidential section of B.G. Press. But adequate and much more security need was felt and the Ministry of Establishment and Ministry of Finance jointly decided to bring forth a separate press for this. As a result, ''Bangladesh Security Printing Press'' started functioning at the erstwhile Provincial Stationery Office building, taking a few machinery and employees of B.G. Press. Soon after the start, all sorts of security print requirement were imposed to the new unit office. A gradual increase in security print demand was held and the printing wing of the Training, Research, Evaluation and Consultancy (TREC) program of the then Family Planning Department was absorbed in this Press under the Controller of Printing and Stationery with its manpower and machineries. Thus 86 gazetted and non-gazetted posts for a full-fledged set-up and a comprehensive organogram was developed by the absorbed employees of TREC Press and by absorption of some repatriate Bangladeshi staff of the then Pakistan Security Printing Corporation, Karachi. Since then this press has been catering all sorts of security instruments required by the People's Republic of Bangladesh and its various autonomous and semi- autonomous bodies.
A Swedish grant for the aggrandizement of its capacity, was obtained and duly implemented. With the passage of time demand for Security Printing of different govt. Semi-Government and Autonomous bodies increased tremendously and the press had to face an acute problem of manpower to synchronize with the demand volume. The 1982's recommendation of Enam Committee and memo no. সম (পি এন্ড এস-২নি)-৬৬/৮৫-৪১৬ dated December 2, 1985 helped enlarge the permanent set-up personel number from 86 to 112. A proposal for further enhancement of manpower was made. A consequent memo of November 5, 1984 no.-সম(পি এন্ড এস)/৩৫/৮৪ ministry of Establishment accepted the proposal through the sanctioning of new 73 temporary post. Later on 64 posts of them got permanent sanction.
The total sanction of manpower against Bangladesh Security Printing Press (BSPP) is now 176. Of them 4 are officer and 172 are employee. The press is comprised of its, 9 main functional units, namely: (i) Administration & Accounts; (II) Store & Procurement; (iii) Care-taking; (iv) Graphic Operation & Pree-Press; (v) Printing machine; (vi) Binding, print-finishing & Checking; (vii) Enveloping; (viii) Mechanical & Maintenance and (ix) Despatching. The Deputy Director is the Head of the press. Assistant Director (Press) and Design Supervisor assist him to look-after the production and technical affairs of the press. Whereas, Security Officer (Store) is assigned to look-after and report about the logistic support-service, like personnel Administration & Accounts, Store & Care-taking and Despatching.
The productive branches procure necessary materials from store unit and adopt mechanized, automated and manual skill craftsmanship and a set of guidelines to go ahead. Under process materials periodically reach to the binding, print-finishing and checking unit for proper binding, compilation, examination and pre-delivery preparation. The Mechanical unit provides running maintenance of machineries as well as of the plant, care-taking unit deals with all the security matters relating to personnel, material and premises of the press. The administration and accounts unit provides overall administrative supervision of the personnel administration and financial administration of the press.
Necessity is being felt to take a high aspirating project to modernize and renovate the plant to keep pace with the present qualitative and quantitative security print demand of the time. A comprehensive project profile is now under drafting that may help procure latest technology package, infrastructure, transport, training on latest security printing and many welfare aspects of the plant.
Copyright © 2017 Department of Printing and Publications.
Updated by Global Technology Advancement