Welcome to Bangladesh Government Press (BG Press)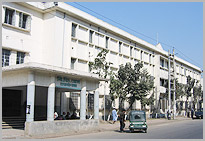 Bangladesh Government Press widely known as BG Press is the lying-in house of Government Publications, For classified materials, Reports, Budget, Bills, Acts, Ordinances, Resolutions, leaflets, Posters. Synchronizing with the geo-political change and rearrangements those came on the map of this area BG Press has got its present infrastructure, manpower, technology back-up and product range. Of a good number of Presses established in different parts of British India one was East Bengal Government Press at Alipur, Calcutta (now Kolkata). During the partition of British India as an independent Government print-house of State it was temporarily shifted in the Central Jail, (Nazimuddin Road), Dhaka. It came in operation by 1948 with a few mounds of lead type-metal and two worm-out printing machines. Then in 1953 it was again shifted and permanently established at the present venue. By the year 1956 it was introduced as East Pakistan Government Press (EPGP) and then the manpower strength was 1400. After the emergence of Bangladesh as an independent country in 1971 EPGP was renamed as Bangladesh Government Press (BG Press).
Copyright © 2018 Bangladesh Government Press. Developed & Maintained by Business Automation Ltd.
Updated by Global Technolgoy Advancement